I used to drink, but I stopped when I got pregnant with my son.  I haven't touched it since.
Maybe an ex-drinker is the worst when it comes to vocalizing the evil of alcohol consumption, but I've got to say, it really rubs me the wrong way when I see THIS on my FB wall:
I'm sorry, but I just don't think it's funny that we as a society normalize drinking in excess:
Sometimes, people even rope the kids into it: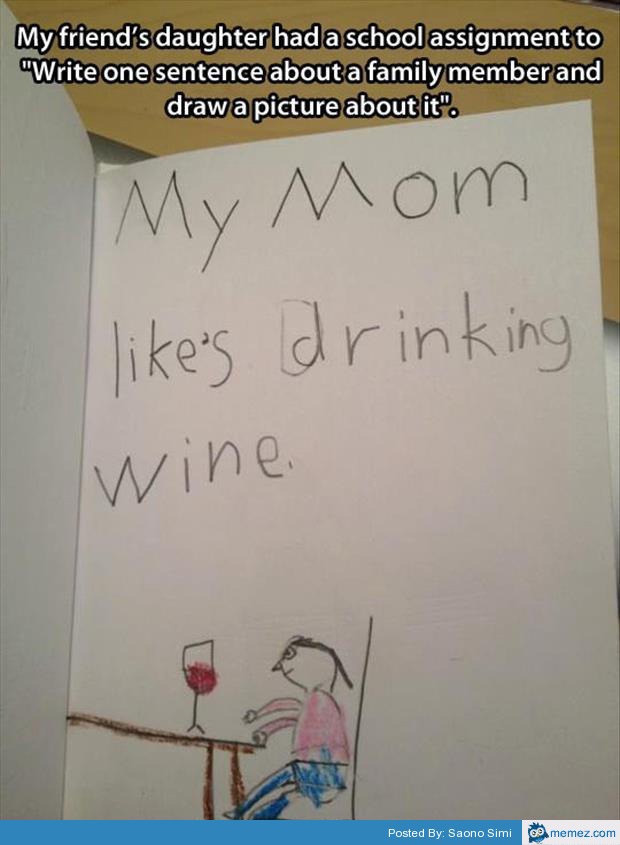 I'm not saying my post is going to get people saying, "She's right… from now on, no more alcohol."  But please think about the message you are putting out there when you it comes to your behavior.
Do you want your kids to grow up thinking it's funny to drink too much?  That parenting requires an addiction?  That their existence drives you to inebriate yourself?
Tipsy parents are not present parents.  Hungover parents are not fun parents.  If you are that stressed that you feel the need or entitlement to bask in the grape, maybe it's time to simplify your life.
At the very least, make the #153Promise to do a little introspection regarding your daily habits and how they are represented to other people, most of all, your children.
-Kisses!